Charles Oluoch - Security Guard
Dreams: "I want MOT to grow and expand to the point where the many people out there who lack jobs can have the opportunity to come work with us and have their lives changed as mine already has. My joy comes when I see people's lives have changed and they are not struggling in these hard economic times every day where they cannot afford to feed their families or take their children to school. These are the main things I would love to see and dream of every day. The growth of MOT will give these opportunities because they already have with my family.
Personal Pride: So far I have been able to finally pay dowry for my wife who I have been married to for 10 years. I had not been able to finalize on this, but through working for MOT, I was able to see this through 2 years ago. MOT assisted me in adding some money for me to finally finish paying dowry to my wife's parents. I can now proudly say that I have a home in my village in Kisumu province where a man is measured by the fact that he has built his own house. This has been a possibility through working for MOT and being able to save money and progressively build my 3-bedroom house in my village, which will be my retirement home when it's time to retire. This is the pride of not only my family but personally for me as the man and head of my household. You have no idea what this means to me! I cannot be any more thankful and grateful to MOT for opening the door for me to accomplish something like this that I never ever dreamed would be possible.
Career Path: I used to work for a company that excavates stones for building but I always knew I wanted to do something that would not only give me the opportunity to see my children go to school, but something that would allow me to learn new skills and grow as an individual and teach my children the value of hard work. Starting the journey with MOT from the time of its inception, I started as a security guard, which I still am, but now I have grown to be part of management in terms of seeing how the production of the bags works and how it runs. Now I feel capable of overseeing a collection done with confidence. I have been able to learn people management skills through the organization, and I feel that I have grown in more ways than I anticipated because MOT gives you the opportunity to do more than what you're expected.
Family: I never thought that I would actually be able to have my first two children in high school at the same time and be able to sustain that while my other five children are also in school. My first born son, who went to a boarding school at the beginning of this year, was ecstatic that I was able to raise the entire amount of school fees. This was possible through the contribution of MOT, who gave me the funds to assist in admitting my son to join secondary school in a boarding facility."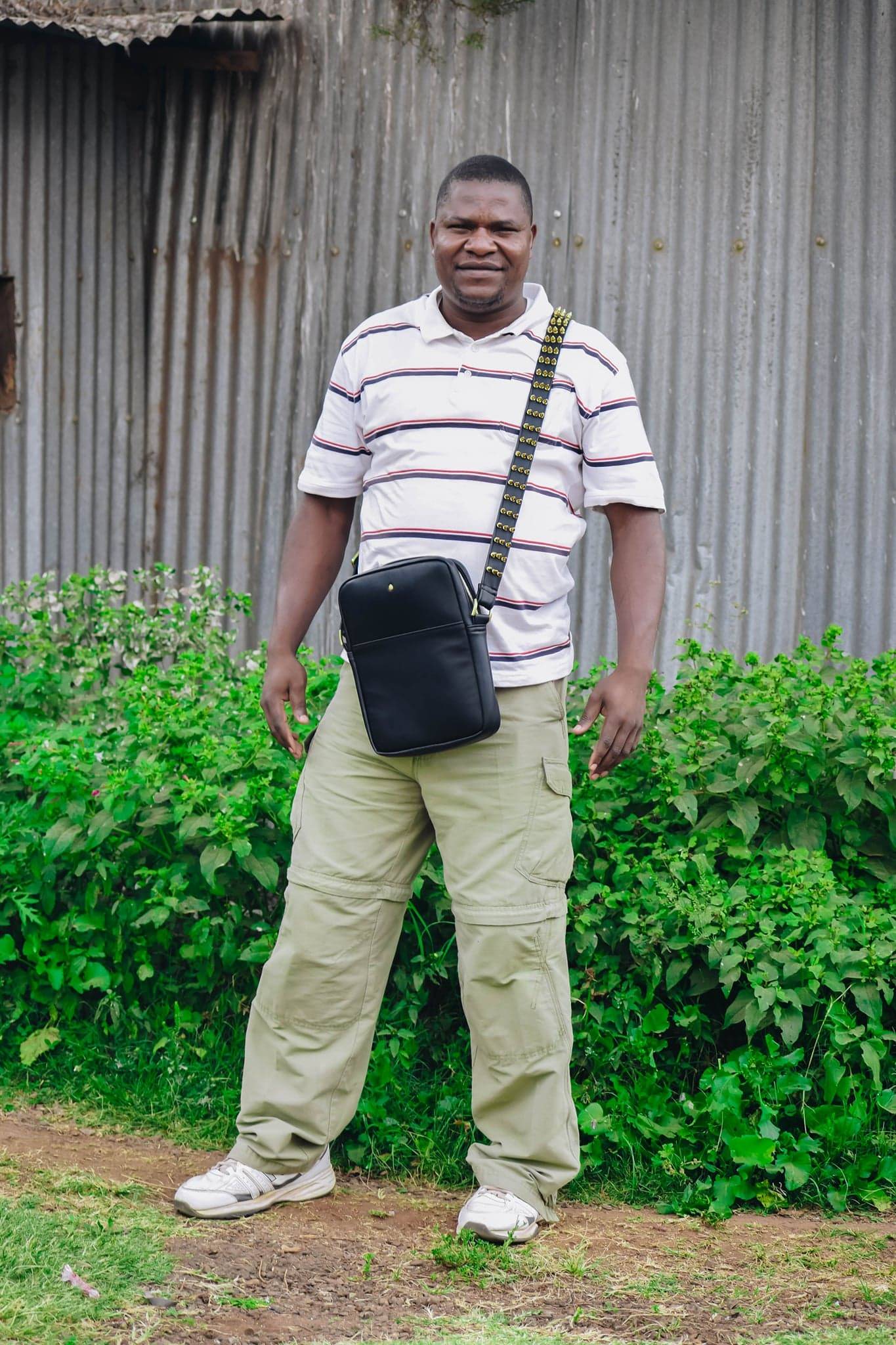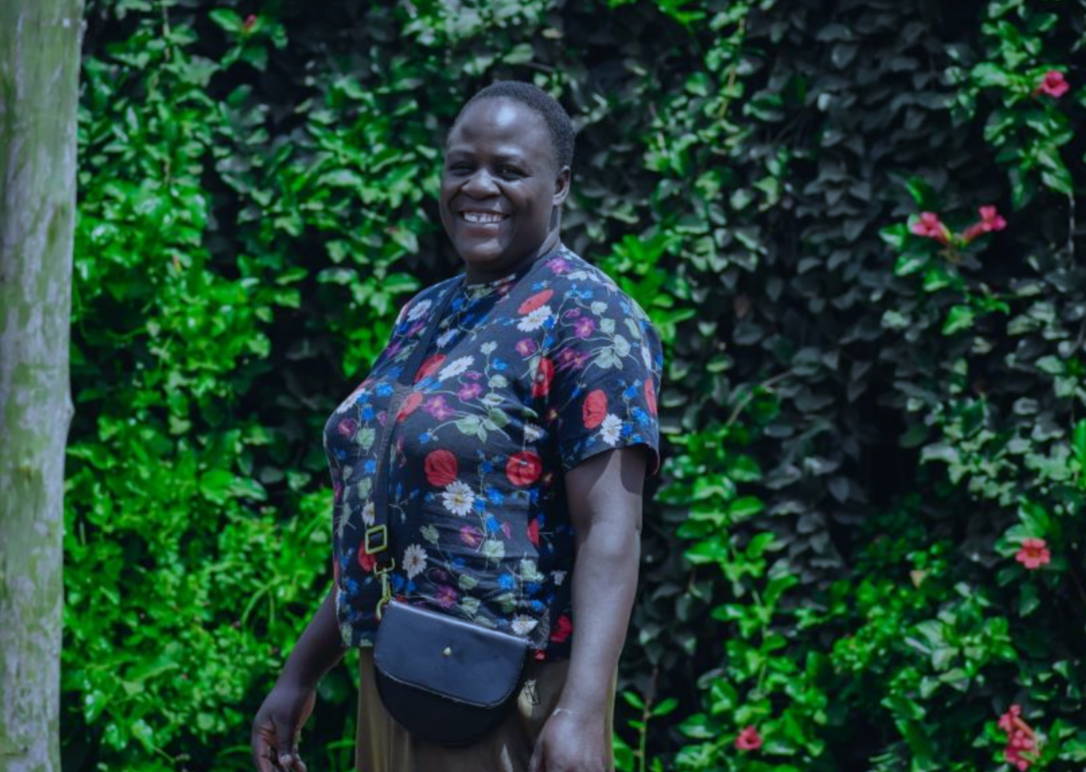 Elizabeth Oluoch - Cleaner & Cook
Dreams: "My dream as a mother first and foremost is that my family is stable and that I am able to contribute to ensuring that they have the basic necessities. This is something that is already happening. Having seven children is not easy in terms of taking care of all their basic needs. But now that I have a secure job, I can see the dream of having all my children well-educated without the panic of any of them being kicked out of school for lack of payment. As a mother, these are some of the dreams we have, and for me, I am happy to say that so far, all this is happening. I have always dreamed of having some kind of business running that is mine. I work in an establishment that not only affords me a salary that takes care of my family, but I can also independently run my own little samosa business in the evenings after work. This might not seem like much to other people, but for me, it's the smell of a dream that I wanted - to feed people as I make a living because food and cooking is a passion of mine. It is through the encouragement of MOT that since I have enough time after I perform my duties at the factory, I should start something on the side that would keep me busier and bring in additional income as well - and thus my vegetarian samosa business.
Personal Pride: I know I am a relatively good cook, but when I make food for my fellow colleagues and they keep giving me compliments on how my food is great all the time, it makes me feel very, very good. I always look forward to making them food every day because it's something that has always brought me joy. As a result of this, I have been able to start my own small business that I do after work hours where I make vegetarian samosas with green grams filing. I am able to do this in the evening after work and it generates me an extra income apart from what I get from MOT. In an hour or two, I run out of samosas, then it's time to head back home to start dinner for my family.
Career Path: I don't know if I ever want to leave MOT, but what I know I have learnt so far by working here is that the skills I came with (I used to sometimes do tailoring work of making clothes for people in the village before I got the opportunity to come work at MOT), I have learned much more. Now I can say that I can make bags and also have organizational skills. Through working here, cooking for many people, and cleaning and organizing the factory, I can now easily organize schedules for many people and even do catering services!
Family: My husband Charles, who is on the Security Management Team, used to live in Nairobi because of his work. It was really tough having to stay back at home in the village with the kids and not have him around all the time. He used to visit sporadically when he got time off or on the occasional weekend, which was rare because his job was demanding and we were depending on that little salary to feed the seven children we have, including me as his wife. Once he joined MOT, he told me that they were offering me an opportunity to go work for them and I jumped at the chance because that meant I would live with him and we'd get to see each other every day. What wife wouldn't jump at that opportunity! So because of the opportunity MOT gave me, I have been able to reunite with my husband and we live together and work together, which is something that I never imagined would be possible. Now our family is a two-income family, our children are all in school and doing well, and we are all together. So this is an amazing journey for me so far. My husband has finally finished paying dowry to my parents 2 years ago, which is something that means a lot in our culture just like many other African cultures. I feel so proud and honored in the right way. MOT stepped in and contributed to what my husband had already amassed, filled the gap, and enabled us to have this dream come true after 10 years of my family struggling to see this finalized. I am now a happy and settled woman for life."
Hellen Achieng' - Tailor
Dreams: "I dream to be able to have my children pursue their dreams through education and know that they can achieve this because there is a foundation through education. It's really one of my main dreams right now. Having this go on and seeing how MOT runs every day, I am confident in knowing that my children will succeed as I do my level best to play my part in guiding them and giving them the opportunity and platform through school to realize this. I know with MOT that this is just the beginning and I want us to succeed as a family of MOT to go places where we can see our products being used everywhere, even by celebrities. I know the bags we make are of very high quality and standards because we really pay attention to detail and I want to be proud that my work is being recognized globally. That gives me joy and I know we are doing it right!
Personal Pride: My children are my personal pride. To be able to provide a safe environment for them to live in, give them a good education, and really just give them basic human needs, makes me a proud mother and I feel I lack in nothing much at this point. Being able to go to work every day and knowing that it's a sustainable job that has seen my life and the lives of my children change is amazing. I no longer feel depressed and wonder every evening where or how I will put food on the table for my children and how to sustain them in school. My health has greatly improved by the mere fact that I have a great place to go to work every day where I am fed and have the weekends free to have all the time with my children.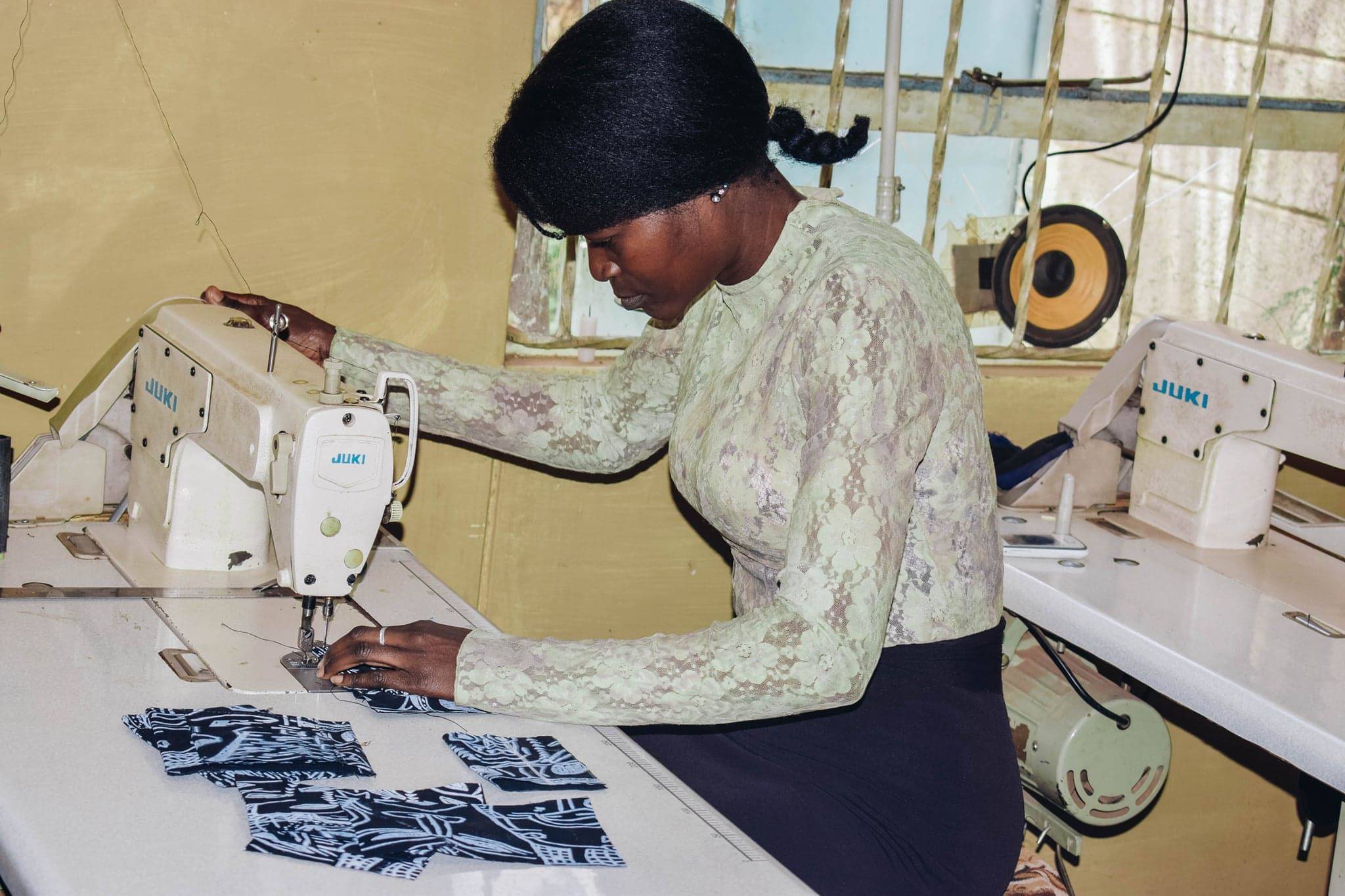 Career Path: I came to MOT when I could work a small machine because the organization I was with before did not give women the opportunity to work on the heavier machines. They felt like those machines needed men who are physically stronger. I really wanted to know how to work that machine, so having the opportunity to do so at MOT has made me very happy. MOT allowed me to take my time when we were not in production, like at lunch hour or after work hours, to just get used to the bigger machine. Now I can proudly say that I can work and sew on the big machines - something that I only salivated about before I came here. On the production line, I was only able to do the interior lining of the bags with the smaller machines, but now I can easily finish an entire bag because I was given the opportunity to learn how to use the bigger machines that are the ones used to complete a full bag. I feel proud about that.
Family: As a single mother of 4 children as a result of my husband's passing, it is my sole responsibility to be the breadwinner of my family. Once I became a widow and joined the MOT family, I can honestly say that I see a difference in my household. I now have more confidence in raising my children, have peace of mind, and can sleep soundly at night knowing that my kids have a future because I am able to educate them. I have also been able to move from a house that had holes and was leaking to a more comfortable house that protects them from the rain when it's flooding. Now they are warm and do not constantly get sick. MOT is a place that I do not want to move on from because they not only give us a work environment that is safe and drama free, but we are given ten o'clock tea and lunch for free! So already I am saving money that I would have used to buy my lunch andthat goes in my savings portion."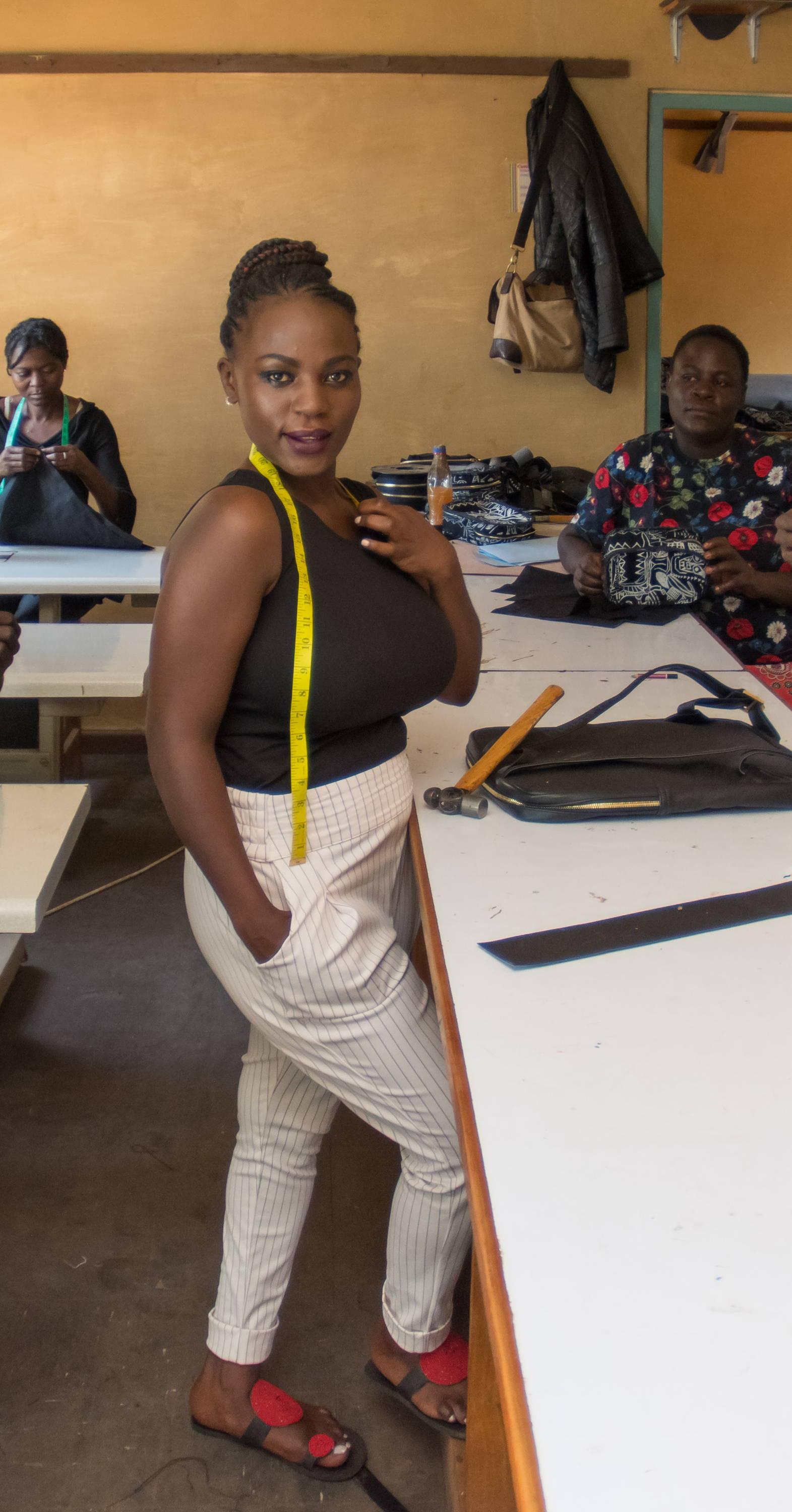 Michelle Gertrude Aricha - Owner of Kenya Halisi Klassics Ltd (Ministry of Tomorrow factory in Nairobi)
Dreams: "My dreams are of global proportions. To be the owner of a factory, albeit its size right now, is something that I envisioned, but never knew how it would come to be and manifest, but here we are today. I have always dreamt of leading an organization that has an impact in changing people's lives and seeing them succeed in an environment where there is hopelessness and suffering - especially economically, which in turn affects the family dynamics. I want to see our brand go global - and not just about the fact that we as MOT impact people's lives by ensuring they have sustainable jobs, but to give hope to other women especially and on a global scale. Our mission is to be on the leading edge of the fashion industry with quality, environmentally-friendly and cruelty-free products that allow us to stay relevant and competitive in the fast changing world of fashion, now and in tomorrow's world. I also want to be able to tour fashion-producing countries - especially in terms of trends and the dynamic and diverse fabrics around the world. This will give me the opportunity to see the different ways in which fabrics are produced, processed, and worked on from different cultures and communities worldwide. The learning process for me would be invaluable since I would be able to apply these in our establishment to merge our own ideas and borrow from others that will ensure MOT stands out in many different ways. I dream for MOT to become a recognized brand worldwide and negate the mentality that luxury products cannot come from Africa. Africa has and is still viewed as a backward country where we always need international assistance just to have clean water, food, and survive. I dream of being one of the names people will see associated with luxury from Africa as opposed to stories of poverty and doom. I want to be a brand that people find marvelous and contribute to changing the narrative of negativity about Africa.
Personal Pride: From the inception of MOT, we have encountered a myriad of challenges from sourcing fabric, people to work with, bureaucracies, and discouragement from others who have waited on the sidelines to see me fail. But with MOT, we have been able to conquer most of it, if not all, and 7 years later, we are still standing and remaining relevant. I feel proud that we have grown in number from one machine to now having seven and that my employees guide and assist in the running of the factory. From some of the press releases that we have had in magazines across the world, it is a humbling, yet proud moment to know that I am part of the story that has contributed to people starting to look this way and get curious enough to want to know our story and what we are all about.
Career Path: With a university degree in Psychology and a minor in Industrial/Organizational Psychology from a well-known American university based in Nairobi, Kenya, I have worked with abused children, been in the NGO world, worked with community service organizations, and in the banking industry. I enjoyed my time when I worked in these establishments, yet I wanted to grow to where I ran my own business that gives me pride and joy - something that I'm passionate about - especially working with people and making a difference in their lives. I enjoy working with people. I enjoy seeing something go from nothing to something. I enjoy working with my hands and being very hands on. I think that is why as much I enjoyed being in the corporate world, I yearned to be part of something that got my hands dirty (you get my drift, haha!).
So, to finally be part of what combines all of that and brings my love for fashion into it also, is a dream come true for me. Here at MOT, I have been able to grow my book knowledge of people skills, management, entrepreneurship, community service, and much more. I know this is the right path for me and this journey seems to have just started through the 7 years that I have been in it. MOT has given me the opportunity to study tailoring skills and this has enabled me to know more about bag manufacturing and I can even do a basic service on a sewing machine. I have hopes and aspirations to further this journey by studying more about the fashion industry formally and am constantly learning through researching independently about bag-making, fabrics, and value addition to a product.
Family: MOT came into being at a time when I had quit my job from the bank and was freelancing, which was alright but was difficult to make ends meet consistently. Through being part of this, I was able to pay my bills comfortably. We call ourselves a small family at MOT, which truly is and feels this way. Through this, from the time MOT came to be, my journey has progressed from being single and only taking care of myself to now being a mom to one daughter. My family has greatly benefited from this, especially now that being a mom brings with it responsibilities, especially financially, to take care of a child. I can now comfortably say that I know my daughter has a future because MOT has given me the opportunity to create that for her and so she can feel safe in knowing her mom has got it all covered because of this factory that we have. To add to this, I have been able to take care of my niece and cater for her school fees easily because I am stable enough to do it and pay it forward in my own way. This is not something that I ever thought I would be able to do for anyone, but it is happening. How much more can one be grateful? Yet I know there is more to come that will make my family even better than where we already are. It can only get better from here. We will soar the heights of the fashion world sooner rather than later."
Kennedy Oduor - Tailor Assistant
Dreams: "I would like to finish my college studies and be helpful to my parents and my siblings as a I make a life for myself as well. I hope to one day have a family of my own that I can comfortably support. I would also love to see MOT grow into such a platform that I will be more proud than I already am to be part of that.
Personal pride: When I came to MOT, I was living with my father in one room that we had to share with my three other siblings as I went to a small college. It was difficult to fit in this tiny one room house as I was also a grown man and needed my own space. I also wished I could assist my father with some bills and put food on the table. I can now be proud to say that within one month of working with MOT, I was able to secure a small house for myself and I moved out of my father's house. I am able to assist my parents a little with what I earn and also have some savings set aside since I dropped out of college because we could not afford my fees for the college I had started. I am proud of this small achievement. Now that I have a place of my own, I can assist my parents and I am able to make savings for my future.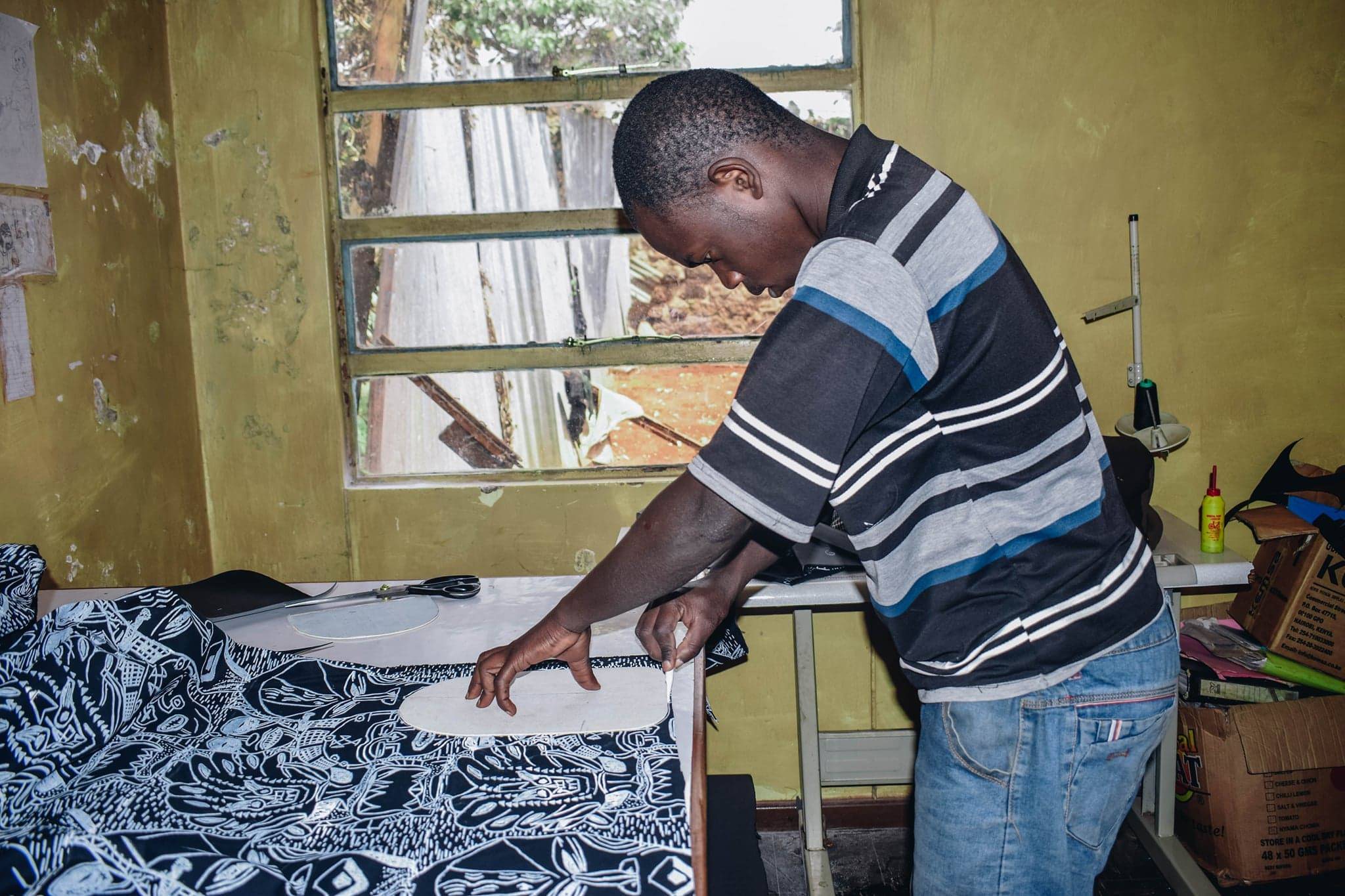 Career path: Apart from learning a lot in terms of skills and workmanship in bag making, I can now comfortably say that I can oversee and assist the tailors in planning weekly production with confidence. The skills I have learned and those that I continue to learn every day are of so much significance because I can apply these when I get back to school. That I have been able to save and continue to do so makes me overjoyed because I know I will be able to go back to school and pursue my college education in Business Administration that I had to stop because of lack of finances.
Family: Honestly I now can see myself having a family of my own soon. As of now I am happy to support my parents and my siblings in whatever little I can. I am glad that as a man I am lucky to be in MOT to see this happen."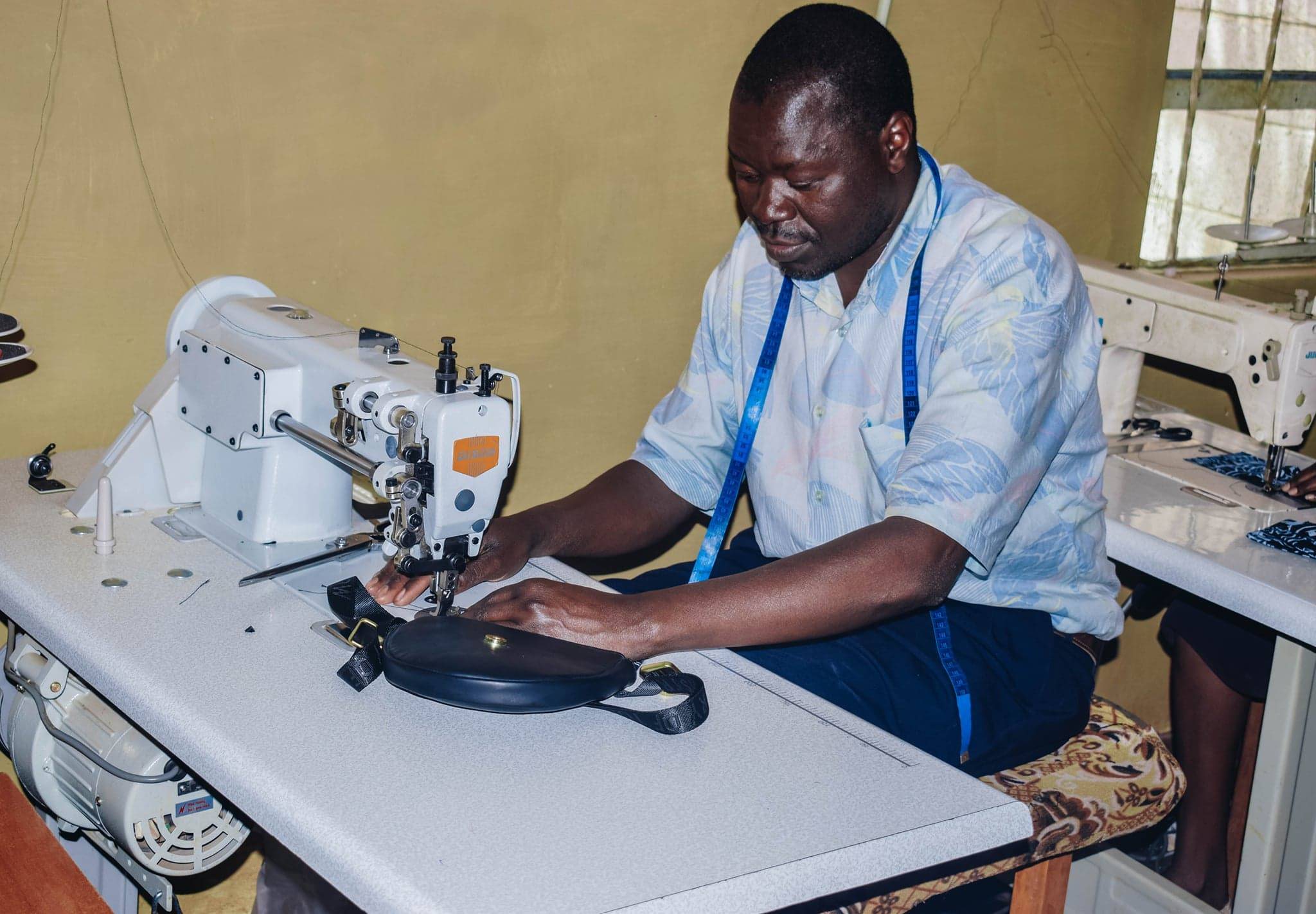 Jacob Otieno - Tailor
Dreams: "To be internationally recognized for my work and the attention to detail that is themost important part of my work and skills. I have been in this industry for many years and I cansay that I appreciate the fact that my work here is respected and applauded and I would want toone day visit the countries where the works of my hands are being sold.
Personal pride: Working in an organization that has enabled me have my family in acomfortable place and not worry about not providing security to my wife and children. What is aman without the ability to secure his family's future and making them feel safe and taken careof? I walk in pride just knowing this, beyond anything else, this is the foremost important thing Icould do.
Career path: I have done nothing else since I was a young man apart from making bags. I have grown and worked in many organizations. I am not young and I continue to age but one thing that has struck me about MOT is the fact that they do not scream and shout and micromanage - especially once they recognize your work. They allow you room to give suggestions, discuss ideas, etc. This is the one place that has made me feel like we are truly a family and one's thoughts and ideas are encouraged and one is actually listened to and not rubbished by the management. In places that you work you want to feel like you are heard and seen and I believe I am in an organization that will allow my career to soar so much and I know with what we are doing, I am appreciated.
Family: Right now I am focused on raising my children who are in high school and college and I am pretty happy that I can do that and take care of my wife and children. I have a stable place to stay, food on the table, and work that is promising me an even greater future. MOT allows me to know that my family is ok, will continue to be ok, and greater things are yet to come just by the fact that I am guaranteed job security. My family can see I am more at ease and settled and happier with less work stress."